We have some old ideas about what makes great travel experiences. We're interested in history, architecture, art, food – the stories – and the incredible changes under way around us. We like to keep learning things and prefer to be walking than sitting in a coach.
We're a boutique company in every sense – offering an in-depth walking tours of Saigon and Sydney, special interest tours and customised travel advice.
Duong runs things in Saigon and leads our Saigon – Tales of the City tour and other special tours for schools and universities. Duong also runs our lovely base in Saigon – The Old Compass Cafe. 
She was born in the central province of Nghe An. Nghe An is one of Vietnam's poorest provinces. It's also the proud birthplace of Ho Chi Minh. Duong moved to Saigon as a child.  She loves art, design and her country's incredible history. She has worked in furniture design and production, architecture and in art galleries. Duong loves to share her stories, and the stories of her city. She co-owns Old Compass Travel and The Old Compass Cafe.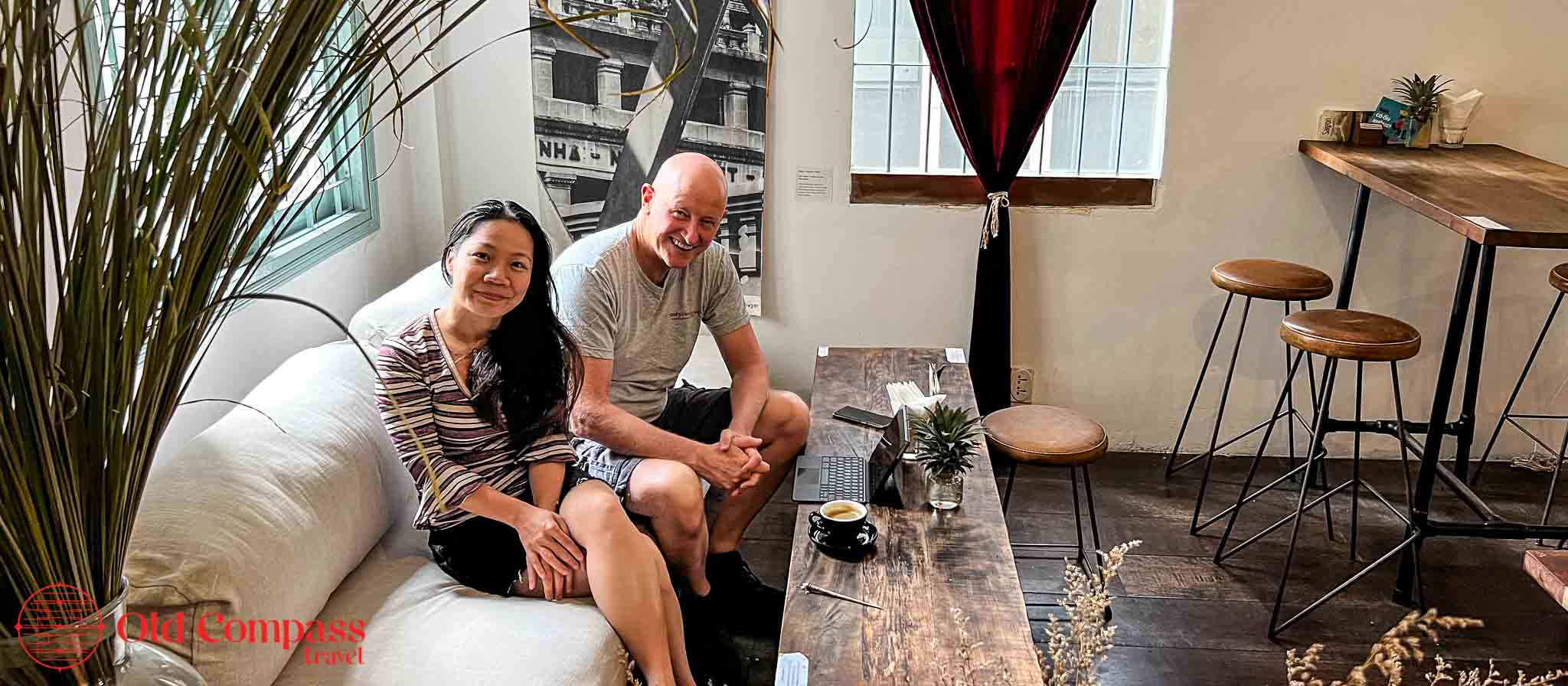 Our tours are designed by our founder, Mark Bowyer. Mark first set foot in Vietnam in 1990 when the country was opening its doors to the world. He's been hooked ever since. Mark leads many of our Sydney tours, our Vietnam by the Book Old Compass Travel Book Club tours and he he also lectures in Sydney and Saigon, to travellers and students.
Vietnam by the Book is our first long tour in Vietnam. There are more to come – including Australia by the Book.
These are unique itineraries enhanced by Mark's unique experience and interest in Vietnam and his renewed excitement with exploring Australia.
For more on our by the book tour series, join this mailing list
Mark publishes the travel website www.rustycompass.com. He's been photographing, filming and writing about travel in Vietnam, Asia and Australia for decades.
He's been captivated for decades  by Vietnam's incredible history, culture, language, architecture and the process of economic development. Mark's love of Vietnam imbues the tours he designs.
All the photos on this website and on Rusty Compass were shot by Mark.